WOCO WINS NATIONAL PHILANTHROPY DAY AWARD
Woodworkers of Central Ohio (WOCO) has been awarded the National Philanthropy Day Award for Volunteerism by the Association of Fundraising Professionals of Central Ohio. This annual awards program recognizes outstanding achievement by individual, foundation and corporate philanthropists, fundraising volunteers and professional fundraisers. According to the press release "such individuals and organizations form a vital partnership with charities and the non-profit sector to ensure that the needs of all citizens are met. It is right and proper, therefore, that AFP honors those who hold high ethical standards and best exemplify commitment and dedication to helping society. These awards are given to those individuals and organizations whose lifetime or long-term achievements have made a significant impact upon society."
WOCO was recognized for its many long-term community service programs and the dedication which WOCO volunteers have towards those programs. Specifically cited were the Holiday Toy Program, Chair Riser program, furniture building at the Furniture Bank of Central Ohio and the cutouts program at Nationwide Children's Hospital.
The award will be presented at a luncheon on Tuesday, November 25, 2014.
Click here for a PDF verison WOCO WINS NATIONAL PHILANTHROPY DAY AWARD
---
Safety Presentation Given at the January 2014 Meeting
Click here for PDF's of Meeting Highlites
---
ROBOLD HONORED FOR VOLUNTEERISM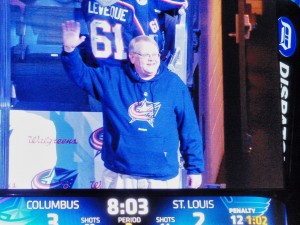 Ed Robold was honored recently by his employer, Boehringer Ingelheim,(Roxane Lab) for his volunteer activity. Boehringer Ingelheim encourages volunteerism among their employees and recognizes an individual employee each month. Ed was selected for the award in December because of his contributions to the community by his toymaking. He was honored at the Columbus Blue Jackets game on December 14 at Nationwide Arena. As Ed waved to the crowd, photos of several of the toys he's made were shown on the jumbo video screen.
Ed is a longtime member of WOCO and is the immediate past president. He has used his woodworking skills to make toys for the WOCO Holiday Toy Program for many years. Each year the 50 or more catapults he makes helps put smiles on the faces of needy children at Christmastime.
Congratulations to Ed on this well deserved honor.
---
WOCO Member Dan Martin's Shop Featured in Magazine

WOCO Vice President Dan Martin had his shop featured in the October, 2013 issue of Woodworker's Journal. The four page article mentions Dan's design considerations in building his shop and highlights many of the unique and well thought-out details he incorporated into the shop. The story includes a schematic of the shop layout as well as many photos.
Also in the article is a nice mention of our WOCO Holiday Toy Program and a photo of several members in the shop with a few of the toys.
---
Columbus Foundation Honors Furniture Bank
September 2013
The Furniture Bank of Central Ohio has received the 2013 Columbus Foundation Award. The award was presented to FBCO Board Chair Tom Houle and President Jim Stein during a ceremony on September 12. Created in 1986, this award is given annually to an organization that has made a significant difference in the betterment of our community. A grant of $25,000 was presented to the Furniture Bank in recognition of winning this award.
Woodworkers of Central Ohio is a volunteer partner of the Furniture Bank. WOCO members donate more than 5000 hours annually building furniture for distribution to the needy in the community.
---