Lou Gatch Wins 2019 Jefferson Award

Building Dressers and Bedframes for Families in Need


The Furniture Bank of Central Ohio is a non-profit organization whose mission is "to provide free furniture to its central Ohio neighbors struggling to furnish their own homes as a result of poverty and other significant life challenges." They do this primarily by distributing donated furniture free of charge to clients through more than fifty social service agencies. Eighty-five percent (85%) of the families served each year have an annual household income of less than $12,000 per year.
In late 2010 WOCO learned of a project which the Furniture Bank was trying to start. Donations of dressers were simply not sufficient to meet the demand so the Furniture Bank looked at the possibility of manufacturing them . Working with the Furniture Bank, volunteers from WOCO designed, built, equipped and operate a "furniture factory" for the production of four drawer dressers. Our volunteers currently work on Tuesday and Wednesday making dressers. Since the beginning of production in early 2011 they have made more than 11,000 dressers and logged more than 40,000 volunteer hours.
The output from dresser manufacturing has helped the Furniture Bank increase the number of families served annually by over 20% to about 4300. Demand is so great that the dressers are distributed within one or two days after they are made. Significantly, families are now able to select more than one dresser so that each child can have a place to store his or her own things.
With the success of the dresser building program WOCO volunteers looked to address another need of the Furniture Bank – bed frames. The Furniture Bank usually receives donated mattresses sufficient to meet demand; however, without a bed frame families are forced to sleep on the mattress on the floor. WOCO volunteers designed a bed frame, constructed fixtures and jigs to make them and work each week at the Furniture Bank producing them. Since the inception of this effort more than 1500 bedframes have been manufactured and distributed to people in need.
Volunteers are always needed to help increase the output of dressers and bed frames. If you are interested in volunteering contact Colin Veatch at the Furniture Bank groth@FurnitureBankCOH.org or Mike Quinn (mikequinn@columbus.rr.com) .
blank-line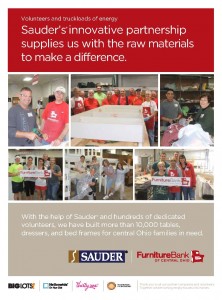 Click Here to watch You Tube Short Videos taken at the F.B.
(Click any picture to see a full-screen version.) Click Here to view Flickr slideshow of all pictures.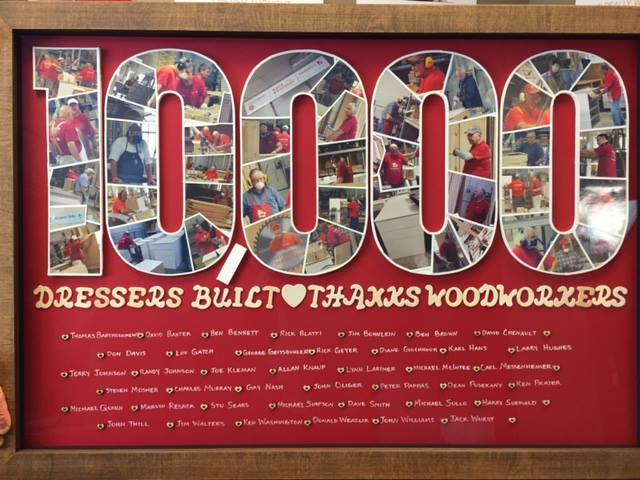 The Tuesday Crew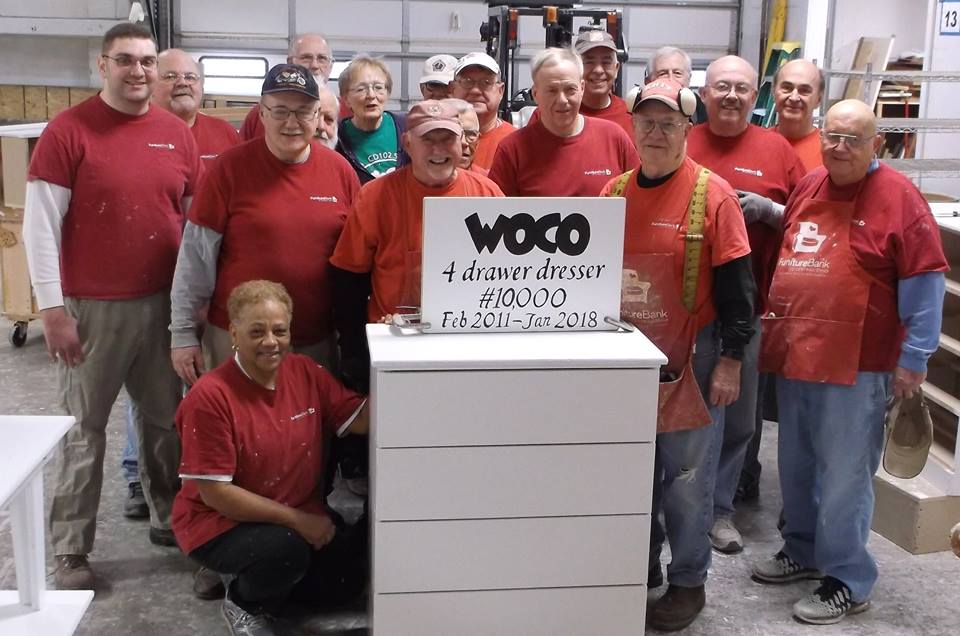 The Wednesday Crew