Welcome to the Woodworkers of Central Ohio (WOCO) web site!
WOCO is dedicated to improving the woodworking skills of its members through scheduled meetings where a presentation is made on a topic of interest, through our extensive library of woodworking materials, and through our service projects. Members develop camaraderie while sharing woodworking knowledge and skills through social time at meetings, one-on-one sessions, small-group tutoring, and participation in work sessions and affiliated groups.
WOCO Meetings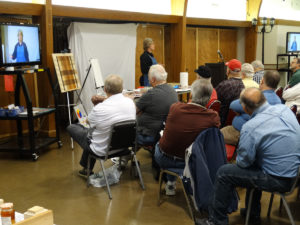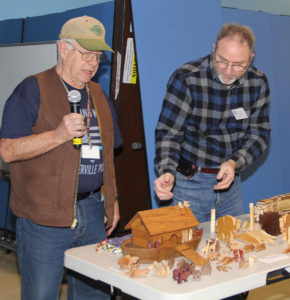 WOCO meetings, held the second Saturday of Sep, Nov, Jan, Mar, and May, provide members with a speaker related to a woodworking topic. There is a member showcase portion of the meeting where members display and explain their projects. Members may also check out materials from the extensive woodworking library.
There's time prior to the meeting and at the break for refreshments and to interact with fellow woodworkers.
The meetings are held at the Spring Road Church of Christ, 74 S. Spring Rd., Westerville, OH. Click here for the next meeting's topic.
Community Service
WOCO has a long tradition of giving back to the community through a variety of service projects:
Holiday Toy Program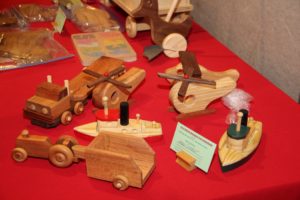 Members make wooden toys throughout the year, either individually or in groups. More than 4,000 toys are given to children in need annually.
Furniture Bank of Central Ohio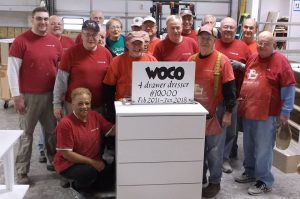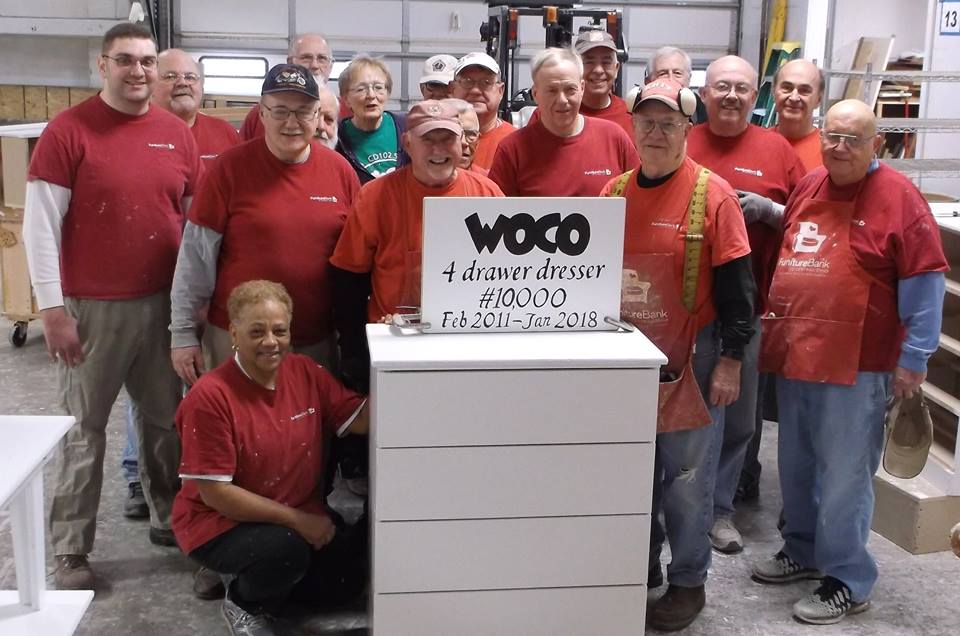 Members volunteer each week at the Furniture Bank of Central Ohio building furniture that is distributed to people in need at no cost. In the last nine years, almost 13,000 dressers have been made at this facility.

Children's Hospital Cutout Program
Members make wooden cutouts each month that the young patients decorate with markers, crayons, or paint.
Affiliated Groups
Craftsmen for Kids, Inc.
This group makes educational toys to be given to children in Head Start classes in 20 counties and 170 classrooms. The group has added another women's shelter and a center for adoption and foster children. The group also works directly with children in the assembly of toys.
I-70 Toy Group and the Termites
These two groups make toys weekly for the club's holiday toy program. Not only are lots of toys made in these groups, but friendships develop as well.
Non-Affiliated Woodworking Groups
These groups aren't affiliated with WOCO, but might be of interest to you.
Central Ohio Woodturners
http://www.centralohiowoodturners.org/
Columbus Chippers Carving Club
Click here for more information
Other Benefits of Membership in WOCO
Five yearly newsletters packed with valuable information for woodworkers. Check out our latest issue by clicking here.
Club discounts online and at area stores.
Periodic emails with items for sale by club members and others.
Members' only section of web site with resources for the woodworker.
Club dues are $25/year. You may join at one of our meetings or fill out the membership application and mail it in. Click here for the form.